Discover Lake Houston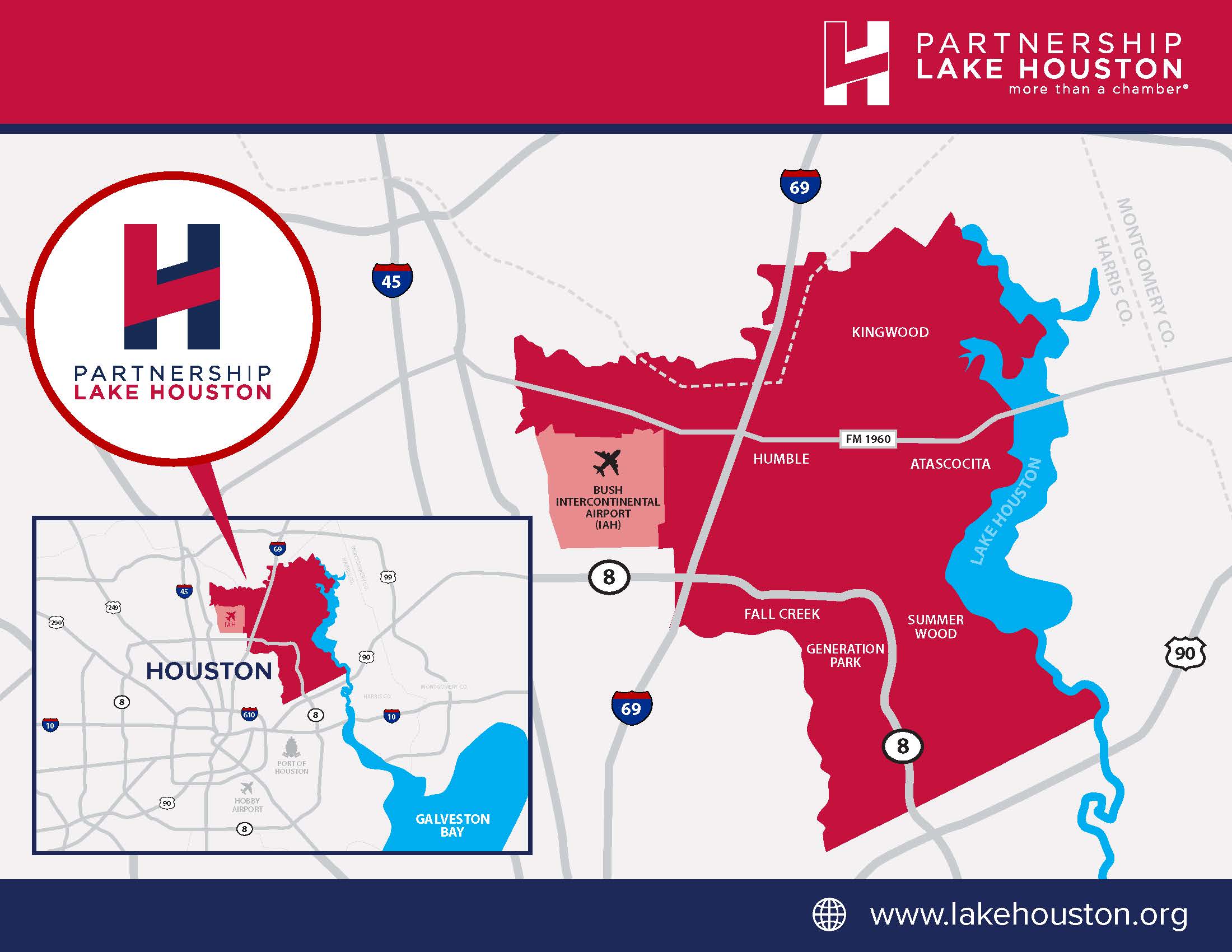 The Partnership Lake Houston area is home to one of the fastest growing sections of the Houston Metro. Covering seven zip codes (77044, 77338, 77339, 77335, 77345, 77346 & 77369) we have the real estate you need to grow. With over 300,000 residents, a talented workforce, as well as top rated education (Humble ISD, Lone Star & San Jacinto Junior Colleges), we are poised and ready for the right business right now.
An integral part of our Lake Houston community is Generation Park, a 4,000-acre world-class, master planned, mixed-use development like no other in the country. It can accommodate startup businesses all the way to global headquarters. Our Partnership Lake Houston business base is diverse and growing with twenty-six corporate or regional headquarters that include national and global leaders like Insperity and TechnipFMC.
Good transportation infrastructure is key to a vibrant business climate and the Partnership Lake Houston area includes unparalleled access to I-69, I-45, Beltway 8 and The Grand Parkway, in addition to having George Bush International Airport in our backyard and a twenty-minute drive to the Port of Houston.
Entertainment are plentiful in the Partnership Lake Houston area. With the recreation of Lake Houston and the San Jacinto River, beautiful golf courses and various parks, outdoor enthusiasts can find plenty to keep them busy. The Partnership Lake Houston area is also a popular destination for endless hours of indoor entertainment and great dining.
Live Here. Build Here. Grow Here……Discover What's Possible
ATASCOCITA (77346)
Population – 65,967
Rush hour drive to Downtown – 40 minutes
Most of the individual subdivisions in Atascocita feature their own parks, swimming pools, tennis courts, and easy access to recreational facilities. Additionally, area residents can enjoy two recreational facilities. Located on more than 120 acres, the Lindsay Lyons Park/Sports Center features a playground and barbecue pavilion, in addition to numerous athletic fields.
Bordering Atascocita on the east, Lake Houston plays a vital role in the area's recreational offerings. Formed by the damming of the San Jacinto River, the lake offers excellent opportunities for swimming, fishing, boating and skiing.
HUMBLE (77338)
Includes all of 77338 including City of Humble – 42,787
Rush hour drive to Downtown – 30 minutes
Humble exploded into a pioneer oil boom town around 1904. At that time, the Humble oil field was the largest producing oil field in Texas and thousands descended on the community. Today the city limits of Humble encompass ten miles of land. Quality education, prosperous commerce and cultural and social endeavors by the city have contributed to a high quality of life that has thrived in Humble for decades. These ingredients helped form a groundwork for prosperity and have continued to attract some of the most successful businesses in Texas.
Among the four public parks in Humble, recreation activities are plentiful. Swimming, playgrounds, a fitness course, an entertainment stage, tennis courts, baseball fields and more are available.
KINGWOOD (77339, 77345)
Population – 70,009
Rush hour drive to Downtown – 45 minutes
Kingwood is a master-planned community located just 20 miles north of downtown Houston and 3 miles north of Humble. Known as the "Livable Forest," each village in Kingwood is unique yet connected with greenbelts and parks that provide a serene environment and an escape from city life. Many professionals have traded their commutes to Houston for office space in many of the professional buildings. Kingwood is home to the third wealthiest zip code in the Greater Houston Area.
SUMMER CREEK (77044, 77396)
Population – 103,660
Rush hour drive to Downtown – 30 minutes
Summer Creek encompasses the 2,300-acre master-planned community of Fall Creek and the 1,500-acre master-planned community of Summerwood. Summer Creek is the newest community in the Lake Houston Area and offers illustrious housing options, a plethora of shopping and restaurant options, numerous places of worship, quality education choices and a growing array of medical and dental offices. It's no wonder this booming community at Beltway 8 and West Lake Houston Parkway has become one of the top communities in Houston.
Summerwood is home to a 150-acre nature preserve and 17 acres of lakes. Parks, playgrounds, paved trails and picnic areas spread through the community.
Fall Creek residents enjoy the natural grandeur of the Golf Club of Houston, home of the Shell Houston Open, and a broad spectrum of amenities, from hike-and-bike trails and catch-and-release fishing to a resort-style aquatic center, greenbelts with walking trails and tennis courts.

Although our investor's support comes from all across Texas, the Partnership Lake Houston area, as state in the bylaws includes the zip codes 77044, 77338, 77339, 77345, 77346, and 77396. The following information reflects this geographic area.